Managing a home can be complicated and stressful. Askhomey helps you fall in love with your home all over again. We helped AskHomey early in their startup career and create their brand, voice, logo, and custom app design. 
Branding, Digital Strategy, Web + UX Design, App Design, Custom Web Development, Funnel Pages
Information Technology and Services
Here's the story of how we supports estate agents by providing a digitised view of all essential information about a property.
AskHomey had a concept – but it needed some personality. Their MVP was functional – but the interface was clunky. The biggest challenge was organizing their mega-app, since it needed to store information about each room and piece of furniture, all documents for your home, to-do lists, snagging lists, wishlists, ability to pay home bills, and share it within a greater community).
Through brand discovery, we dug into their business model, goals, vast target audience, and competitor analysis. We wanted to know what made them excited. We created a unique brand position for them to stand against the crowd.
"Brave Factor always went the extra mile, e.g. researching competitors and other market offerings to ensure that our proposition would be best-of-breed and highly-usable. Brave Factor helped us translate complex (and often-times somewhat confused!) requirements into tangible solutions."
DES ADKINSON, Chief Delivery Officer and Co-Founder
After strategy, we designed a new logo for their startup. It incorporates the chat-like feature of the app, the home, and the heart, where family comes together. We used watermelon pink, purple, and a fresh green to convey a feeling of fun, lightheartedness, and friendliness.


We worked together to create simple user journeys for any need and mapped out the users' flow on the app. We planned all interactions with them – from the nitty gritty of user permissions to how the ecosystem functions as a whole.
"They excel at getting to grips with project requirements and are great decision-makers."
DHARMESH MISTRY, CFO and Co-Founder
Using the round, friendly feeling from the logo, we created an illustration heavy app design with rounded corners. We worked with them to create a clickable MVP with over 145 screens for desktop and mobile. The main goal is to make all action items noticeable, but still keep the app fun and the user enjoying all interactions. We helped them go from 4-6 clicks per action down to 1-2 clicks.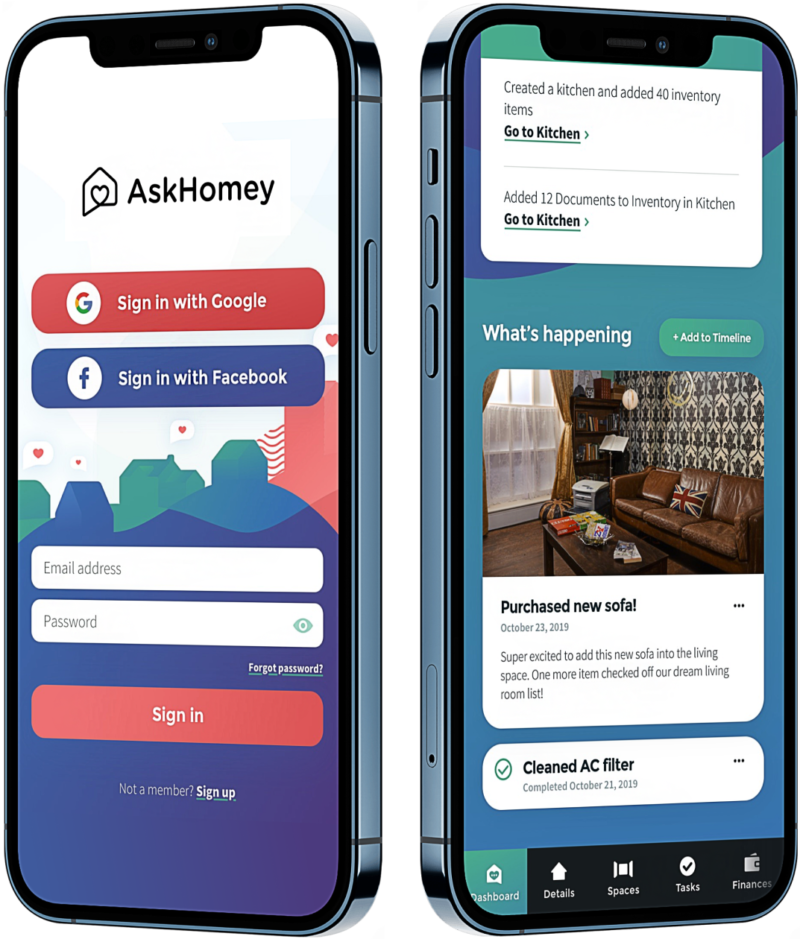 "They're phenomenally flexible when it comes to implementing improvements that I hadn't thought of before. Having said that, they're also great at simply executing, especially if we're in a time crunch."
DHARMESH MISTRY, CFO and Co-Founder