Create a sustainable future through brand clarity & stunning digital experiences.
We want to stand alongside you, working towards a healthier world for future generations. We partner with climate-focused and environmental organizations to help them refine their brands, create beautiful websites, and build impactful WordPress websites. From clean air to climate change, forest preservation to reduced waste, we are passionate about all causes that help create a better earth. We hope, through our brand strategy services, design work, and website development, we can help shift the world together to a more sustainable place.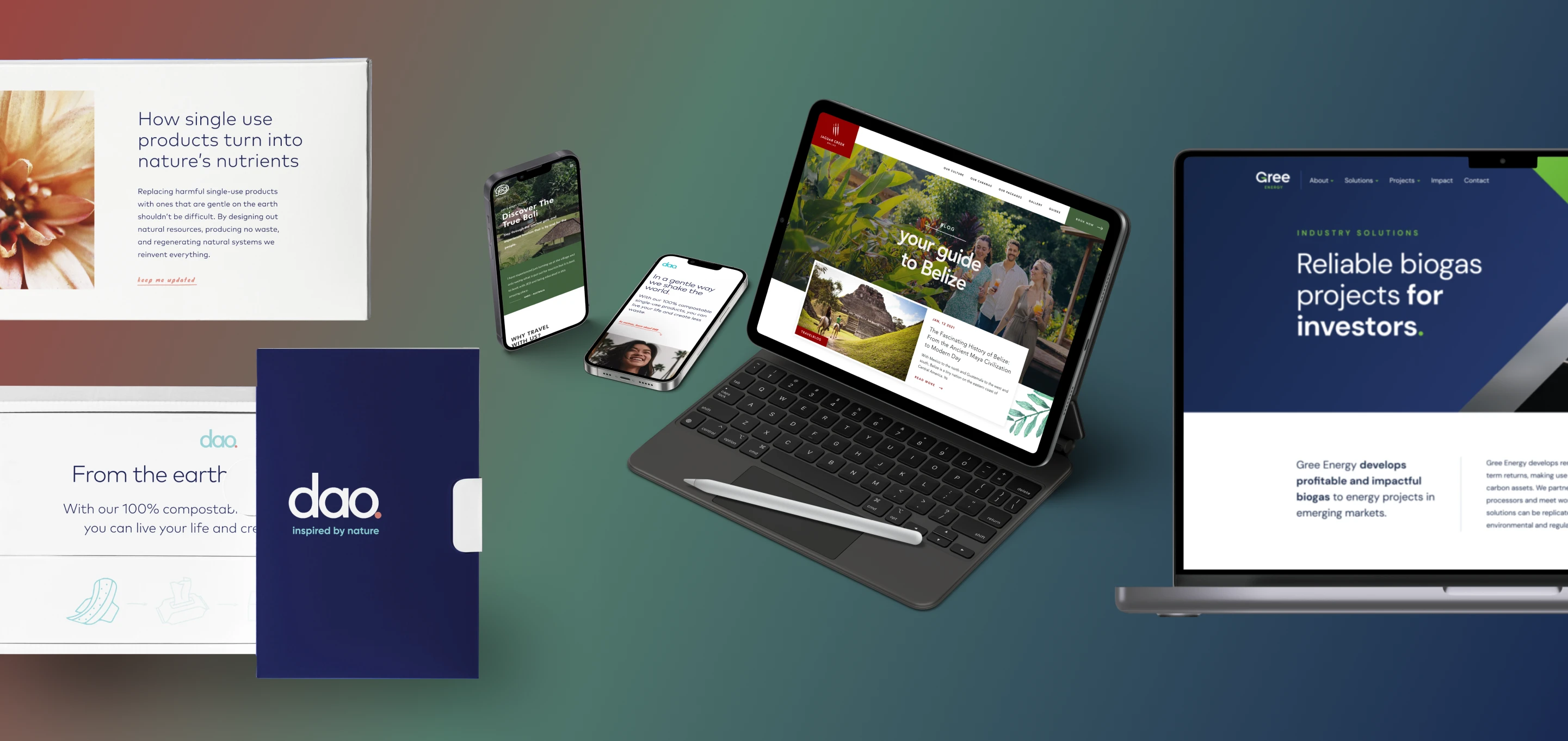 The future of climate change starts here.
Gree Energy, a global biogas company, struggled with a website that was focused too much on solutions, missing the heart of their story and organizational impact. As a startup in a newer industry, they needed to ensure that their brand's look conveyed maturity, experience, and professionalism. We worked directly with them to redesign their brand, structure their story, and create a visually inspiring website that creates interest and clarifies their offerings.
How we can help tell your environmental organization's story:
Creating clarity through discovery & research
Make it clear what your organization stands for and why it matters. Our discovery process aligns your cause around a powerful brand position, mission, beliefs, and values.
Digital experiences that energizes communities
Your website is one of your greatest assets. We work with you to build a site that hits accessibility requirements, creates better engagement, and lasts for years.
Moving people to action through impactful design
Through custom design, we help you connect to your target audience through authentic stories and actionable ways they can join your mission.
Explore our work with environmental nonprofits & climate change organizations
"Brave Factor is just a great company to work with! The insights we got in the process of working on the essence of our brand were really useful… The results ended up being extremely useful and beneficial for our company and brand."
Custom design & development that builds lasting growth
With over 14 years of experience, we help nonprofits and social-impact businesses, like yours, that are working hard to create positive change in this world. We're a small, focused team that offers thoughtful strategy, authentic design, and durable technology. Our goal is to help your environmental organization hit your goals and create better experiences for your target audience and the people you serve.
Ready to start your project?